Liquid leveled up
Much like the RoGator® LiquidLogic® application system, TerraGator maximizes flow for optimal rates while also protecting your product—and your bottom line.
TG7300C/TG8300C or TG8400C: With an 1,800 gallon tank, optimize a full semi-tanker load of product that can be emptied in 3 refills.
TG9300C: A 2,400 gallon tank optimizes in-field application timing and can be used with some of the highest application rates to keep you moving in the field.
Main Product Tank: Designed to keep product in suspension while reducing chemical entrapment risk. (TG Tank)

Full-length sparge tube ensures proper tank mixing and eliminates tank hot spots.
Full-length rinse tube sprays water across the top and down the sides of the tank complete cleaning.
Full-sweeping, double-taper box sump allows complete withdrawal of product.
Anti-vortex plate over the sump prevents pump cavitation from suction.

Reload Plumbing: Maximizes flow needed for your operation while minimizing restriction and chemical entrapment points. Three different pumps are available to ensure you can apply the rates necessary at the desired speeds.
Flow Meter: Semi-vertical flow meter stays full at all times during product application to eliminate rate inaccuracies and ensure the flow meter remains clean, so product won't settle when it's not spraying.
Booms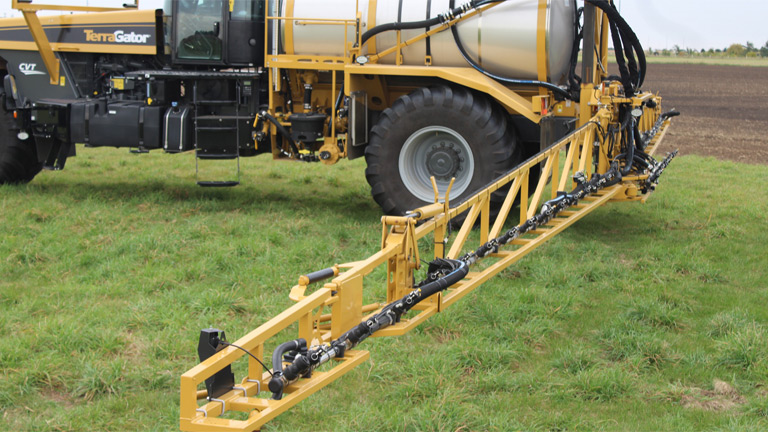 Available in a versatile 60- or 80-ft. fold-over boom option, the stainless steel plumbing is available to cover 82.5 ft. with 30 in. nozzle spacing or 85 ft. with 60 in. nozzle spacing.
Available with seven-section automatic control, quick-stop valves ensure product stops almost instantaneously.
Enhance productivity with options like one-touch automatic boom folding at the press of a button or automatic boom height control from Raven or NORAC.
Product recovery easily empties the system plumbing, manifolds and booms to prevent residue from settling in the system and creating contamination risk.
Boom Clean Out can also effectively be used to pressurize the plumbing to push any remaining
Optional LED Lights: Improve nighttime visibility for all-hours productivity.
OptiMotionTM Auto-Agitation: Automatically adjusts as the tank volume changes, freeing you to focus on application or refill rather than valve adjustments.
Choose your chassis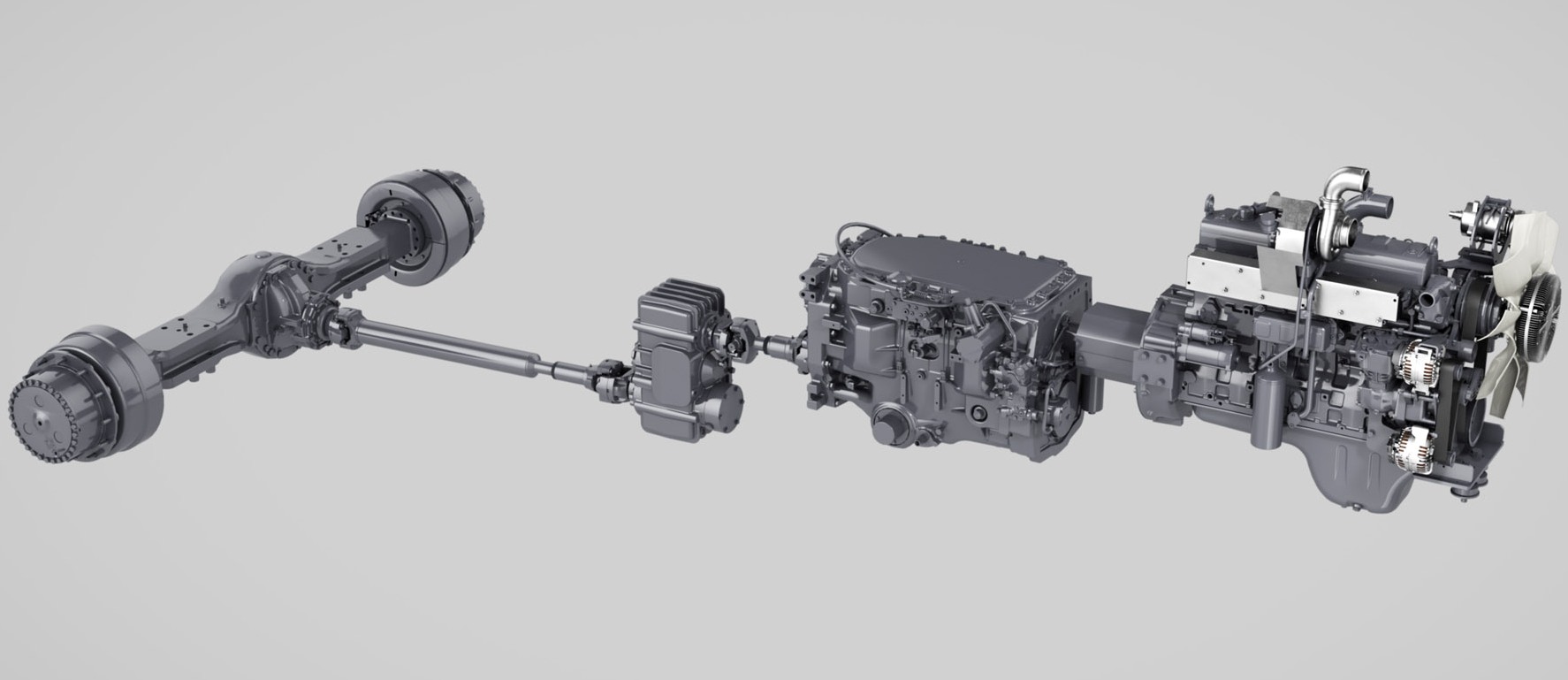 If you have a field, we have the right chassis for you. From less compaction to more horsepower and capacity, our powerful lineup will fit any need—all while maintaining emissions complianc
TG7300C/TG8300C/TG8400C: On the AGCO PowerTM 84 AWF engines, AGCO's selective catalytic reduction (SCR) emissions technology in combination with cooled exhaust gas recirculation (cEGR) achieves Tier IV Final (T4F) emission regulation.


TG9300C: Uses the 98 AWF AGCO Power engine, ensuring increased power density and total fluid economy with efficient after-treatment exhaust gases.
Machine operation made easy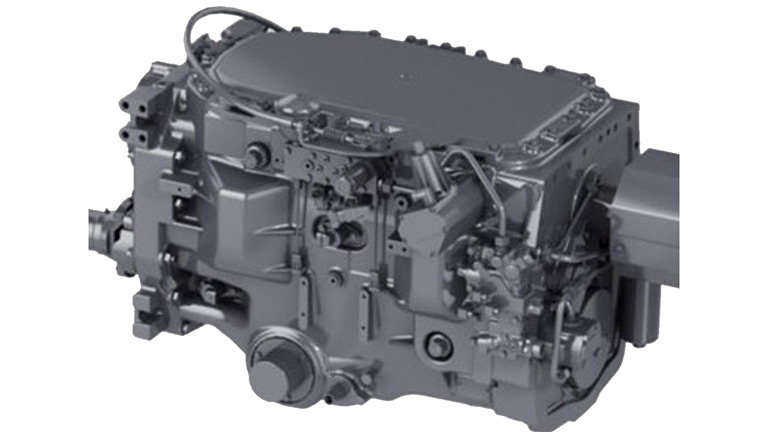 No shifting means there's no simpler transmission to operate than the CVT. Enjoy always perfectly smooth acceleration, constant power to the ground and consistently accurate application—not to mention more comfort for you
CVT: Unlike conventional-shifting transmissions, CVT isn't limited by the number of gears. Simply choose an exact ground speed, engine speed or combination of both, and get firm and continuous traction that minimizes wheel slip and reduces ground disturbance. Plus, with the fewest moving parts of any mechanical transmission in the industry, you get better reliability, longer machine life and greater resale value.

TerraGator Management System (TMS):

Maintains an intelligent, electronic link between the engine and transmission, and synchronizes the terrain and load demand—always delivering optimum fuel efficiency
frame
TerraGator frames don't just offer the strength, capacity and comfort you need to get the job done. They offer a smoother, more efficient ride that reduces wear and tear on the machine—and you.
3-Wheeler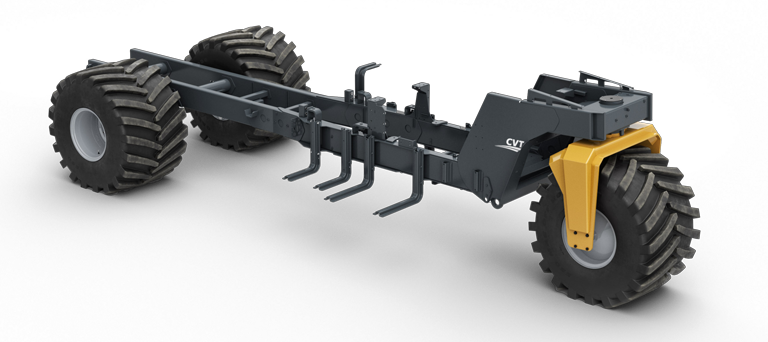 TG7300C/TG8300C/TG9300C: Purpose-built for unyielding strength and unsurpassed payload capacity, comfort and safety. Our chassis is engineered exclusively for off-road ag use, and features single-length, horizontal frame rails made from high-grade, low-alloy steel—reducing metal stress and increasing flexibility over rough, uneven terrain.
Frame Rails: 4 in. x 12 in. (10.16 cm. x 30.48 cm.) beams that are induction-heated and pressurized to reduce metal stress, allowing for flex during field operations. (3-wheeler frame image from brochure page 13)
Freewheeling Front Axle: Rated capacity of 14,000 lbs., while the three-piece drive line running from the transmission to the rear-drive axles uses maintenance-free universal joints and hanger bearings, reducing maintenance and service time.
Front Fork Canter: 3-degree front fork canter assists with a 22-foot turning radius to easily turn within any spread pattern and minimize ground disturbance.
Wide-Track Axles: Add this super-rugged, off-road axle design for use with high-floatation tires, and get 42,000-lb. (19,050-kg) rated capacity—the highest in the industry.
Rear Axle Drive: Equipped with air-cam-actuated drum brakes that adjust to maintain proper brake settings and reduce maintenance.
Paint and Finish: A unique process provides maximum resistance to chemicals, humidity, sun and raw weather conditions.

4-Wheeler
TG8400C: The Longest wheelbase in its class (201 in./510.4 cm.), built exclusively for off-road ag use to provide the stability, strength and balanced ride you need.
Double C-Channel Frame Rails: 110,000 PSI yield strength reduces torsional stress so the chassis flexes over rough, uneven terrain, reducing wheel slip in soft fields and providing superior traction in rolling terrain. (4-wheeler frame image from brochure page 13)
Heavy-Duty Bolted Cross Members: Provide additional stability to keep the wheels on the ground for maximum power, dependable traction and better fuel-efficiency.
Wide-Track Axles: Super-rugged, off-road and designed for use with high-flotation tires, keeping soil compaction to a minimum even with industry-leading 42,000-lb. (19,050-kg) rated capacity.
Rear Axle Drive: Comes with air-cam-actuated drum brakes with automatic slack adjustors that maintain proper brake settings and reduce maintenance.
Paint and Finish: A unique process provides maximum resistance to chemicals, humidity, sun and raw weather conditions.
Leaf Springs: Fatigue-reducing heavy-duty, multi-leaf, front- and rear-variable leaf springs and rear auxiliary springs
Your operation's competitive advantage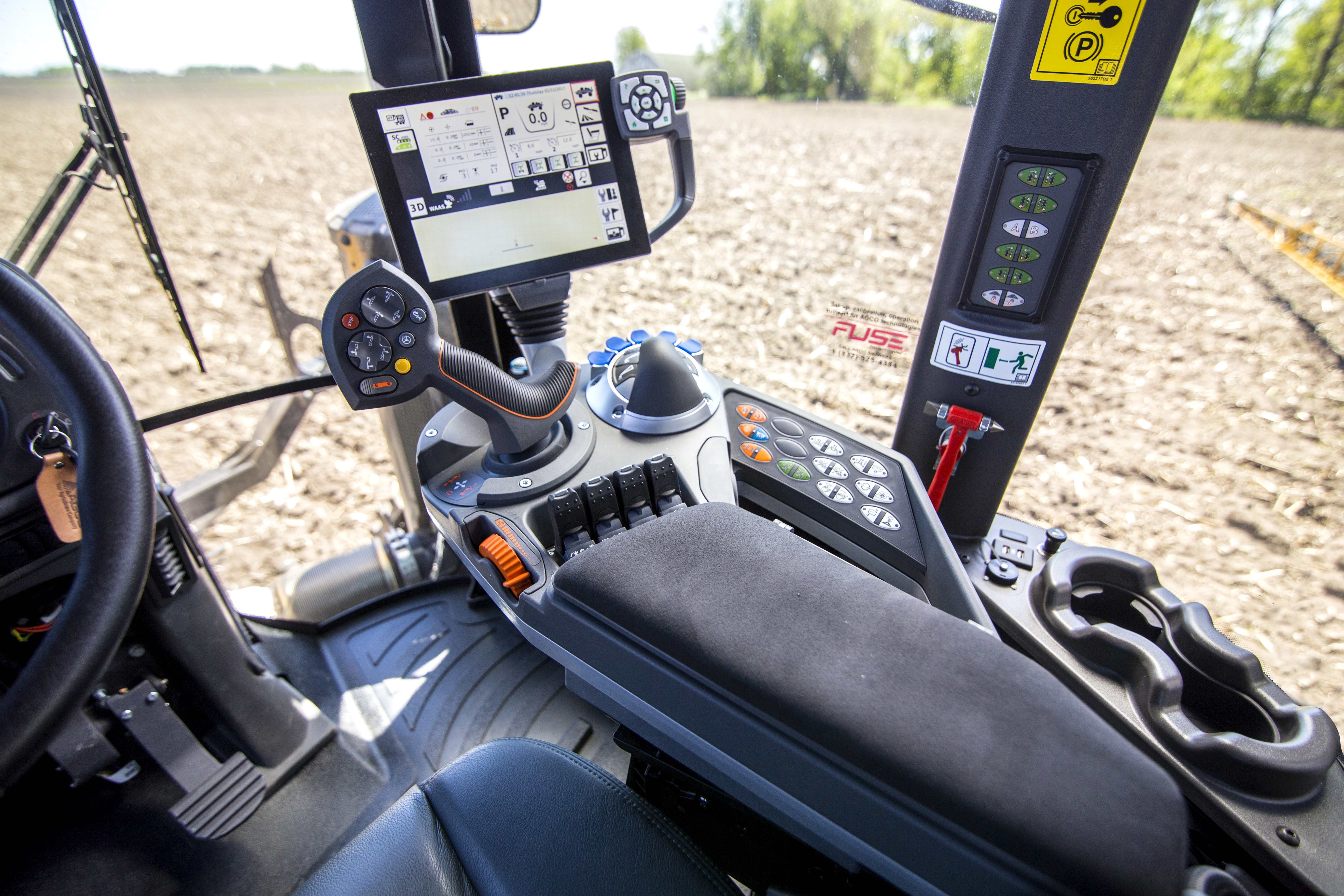 Find the latest technology inside every RoGator®. The intuitive, fully integrated AccuTerminal® gives you full machine control—from the chassis and steering to data management and system functionality—all while decluttering your space with a single screen.
AgControl®
While ensuring highly accurate rate control and quickly achieving rate, manage up to five products via straight rate or Rx maps and create coverage maps, as-applied maps and task reports for fast and easy document reportin
TerraGator Guide System: Integrated into the AccuTerminal for easy one-terminal control, and providing a comprehensive guidance system with waylines such as:

AB or A+ heading
Contour
Pivot
Contour segments
Adaptive curve
Standard NovAtel 7 Receiver

A rugged, self-contained GNSS receiver and antenna with GPS and SBAS support. Base GPS option is SBAS but can be upgraded for higher accuracy levels.
Optional Trimble AG-482 Solution

A high-performance, dual-frequency GPS and GLONASS smart antenna receiver for very high levels of accuracy and performance. Base correction source is SBAS but can be upgraded for higher accuracy levels. (Show Trible chart)
TaskDoc® Wireless Data Transfer: Manage your application data as it records as-applied data, weather data and field data including boundaries, waylines, and obstacles.
Weather Station Data: View the latest weather information and record data as a snapshot in time or throughout the field and use it for documentation of the application.
Choose the ProTechi package with AgControl that offers LiquidLogic or SpreadLogic standard. ProTechi is easy to use with rate and section control, integrating seamlessly between software, pump, plumbing system or dry conveyor and fan speed, including all chassis functions
Take your technology to the next level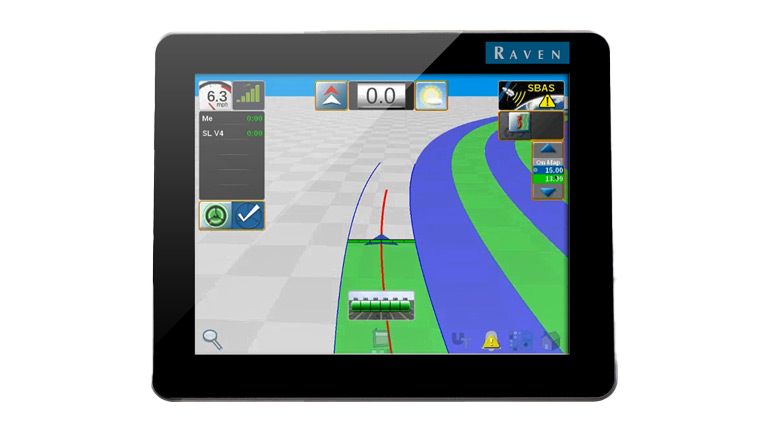 If you're looking for the ultimate in cab and machine technology, look no further than the ProTech+ package.
Viper ® 4+: Offering the ultimate combination of operating power and program capabilities:
10-product variable rate application (VRA)
Real-time data mapping
Record keeping
Intuitive touchscreen control
High quality graphics
Raven AccuBoom™
Previous coverage application zones
Raven Product Control Node: CAN-based product controller, providing 16 section control from the factory regardless of boom width. Upgrading through parts to the rate control module (RCM) provides 36-section control for a cost effective way to add sections for even better control in areas with ample point rows.
RS1 Guidance Technology

Fully scalable steering solution that combines Slingshot, GPS and auto steer into one intuitive, easy-to-use unit with incredible accuracy at both high and low speeds
Slingshot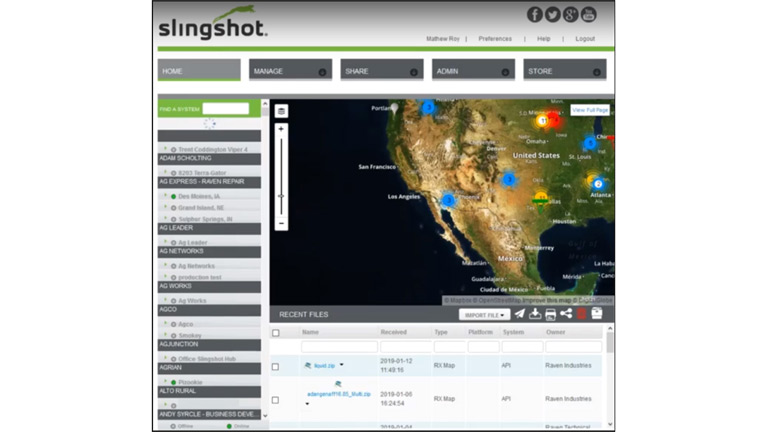 Suite of connected hardware, software and logistical services that optimize planning, executing and recording field applications. This system delivers high levels of connectivity to RTK correction signals, online services, sophisticated data management capabilities and live in-field support and service.
Enables remote software updates and management capabilities.
Send VRA maps to and from the field making office work more efficient and eliminating costly down time caused by file problems.
Allows remote support to see exactly what the operator sees, making issue identification much more efficient and accurate.
Includes 1-year free Silver subscription.
Job Generator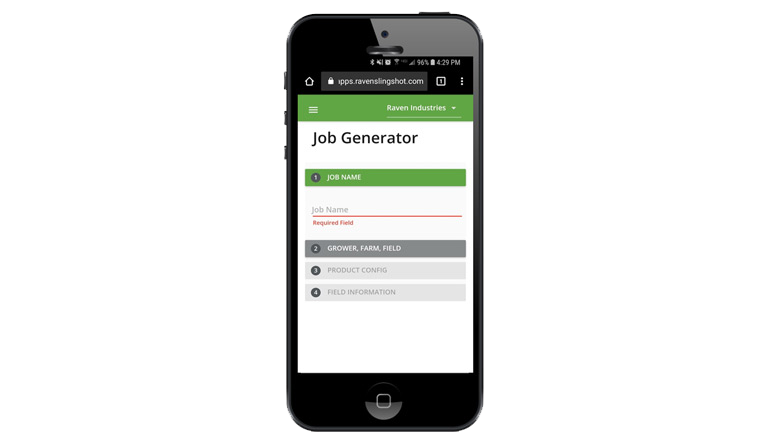 Fast and simple way to set up nearly all parameters of an operation ahead of time and send it out to the machine.
job Sync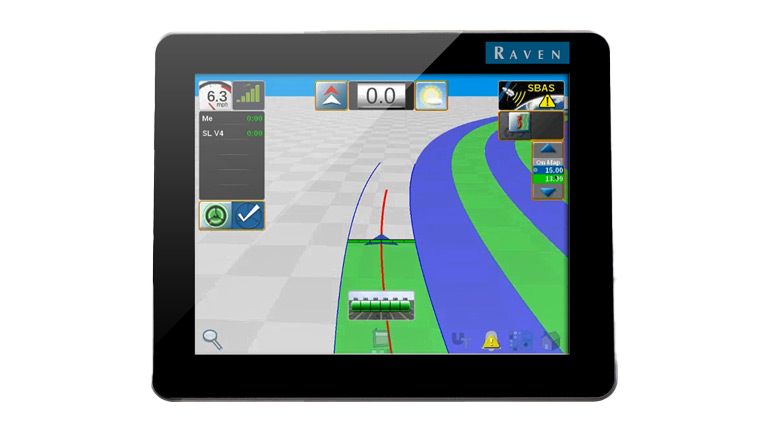 Harnesses Slingshot to allow multiple machines to collaborate on a job simultaneously or days apart—a powerful tool that practically eliminates the potential for overlap or misapplication between multiple machines in the same field.
AgSync Ground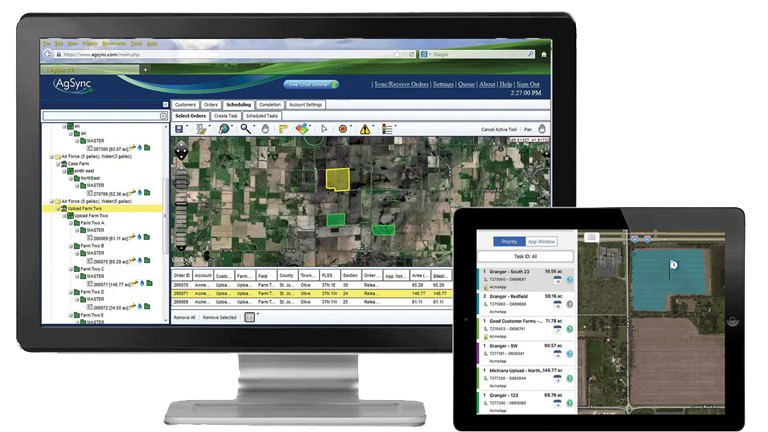 Flexible and scalable tool that leverages Slingshot's data transfer power to streamline otherwise complex tasks, such as work order management, dispatch and asset control, reports and notifications, and filing data management.
Weather Station Data: View the latest weather information and record data as a snapshot in time to use it for documentation of the application.
Data management done right
Agro Link relieves you of the data management burden by collecting, integrating and storing agronomic files—so you can focus on more important tasks.
Save time and effort by consolidating current and historic agronomic data into a single location and file type, easily converting ISO XML files to shapefiles or vice versa.
Simplify data sharing with trusted advisors to help your operations run more efficiently.
Move data between cloud storage, equipment telematics and your FMIS. IMG AgroLink
Securely store and transfer data in one unified file type on your computer or mobile device.
API-connected partners give AgroLink flexibility to collaborate with independent systems; partners include: MyJohnDeere, Case AFS Connect, New Holland PLM Connect, Ag Leader AgFiniti, Raven Slingshot, AgBridge, Climate Fieldview, Farmmobile, Beck's Farm Server, and more
Connected performance perfected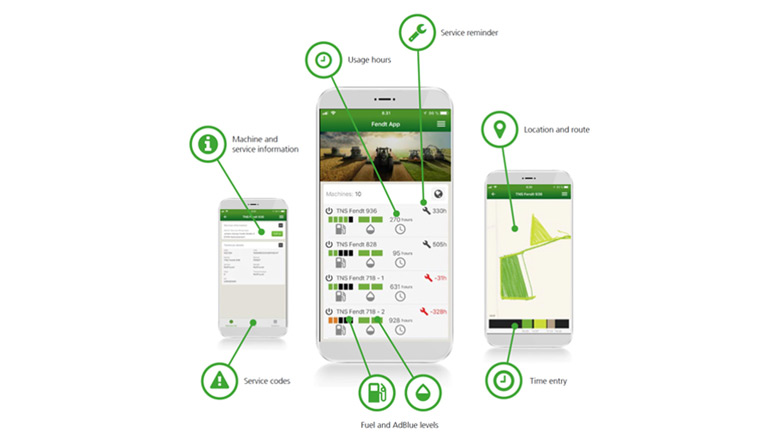 Take the guesswork out of machine optimization with AGCO Connect. Track individual and fleet performance and know where, how and when you can make the most of your machines.
Proactive service scheduling improves uptime and machine servicing through remote-monitoring capabilities.
Improves dealer support efficiency and reduces downtime.
Easily track key operational data, such as machine information, coverage maps and data visualization with the SmartConnect TM app on any compatible smart device.
Premium dashboard includes a histogram that provides a live 60-minute review of critical machine data.
A customizable widget can be set up to suit the operator's needs with up to four screen layouts.
The AGCO connectivity module (ACM) includes a five-year subscription.