Single-Bin and Twin-Bin Variants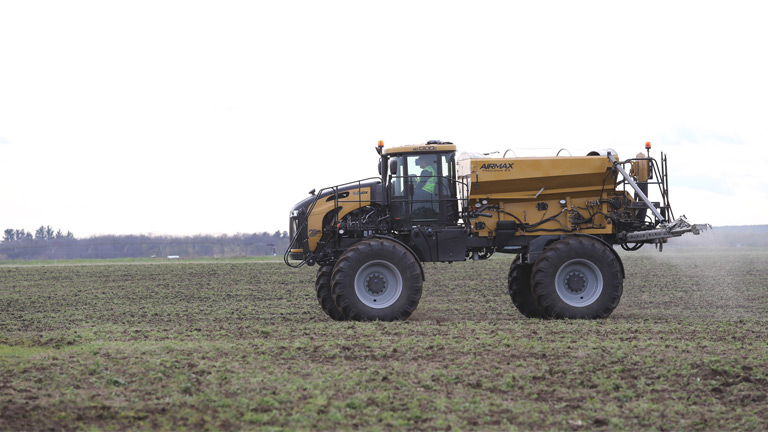 Provide multi-season capabilities and increased flexibility. With the R2, a single lever changes the bin configuration from 50/50 to 60/40 to suit the field's specific capacity needs. Samples can be taken from the front platform of either configuration to check for density. With the R2, samples can also be taken from the rear platform.
Booms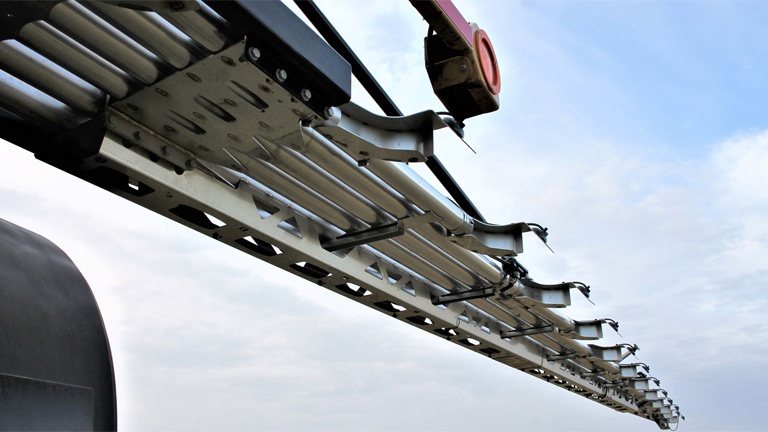 70 ft. long and made of six 304 stainless steel tubes, leveraging a suspension system of hydraulic cylinders and accumulators that increases stability, even coverage and spread pattern accuracy.
UltraSpread™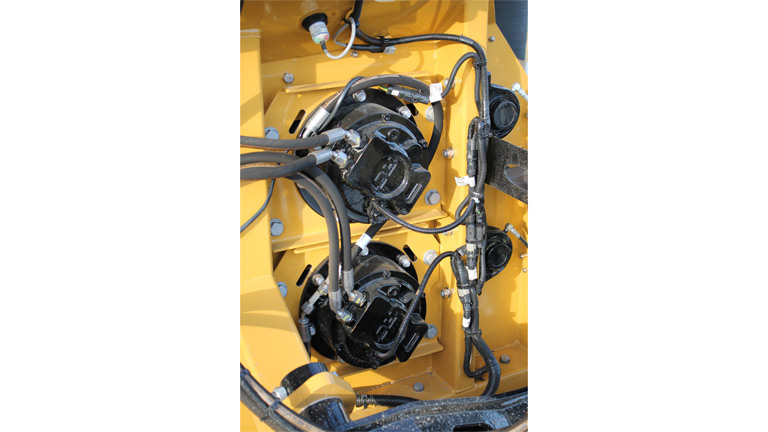 Radial piston hydraulic motors provide low speed and high torque to maintain consistent motion under the load of product in the box.
Rate sensors use 888 pulses/revolution—providing 150% more pulses for every degree of rotation, increasing the accuracy of overall product control.
UltraSpread motors support a large rate range, which eliminates the need for operators to change any box settings in order to apply throughout the window.
TurnLogic™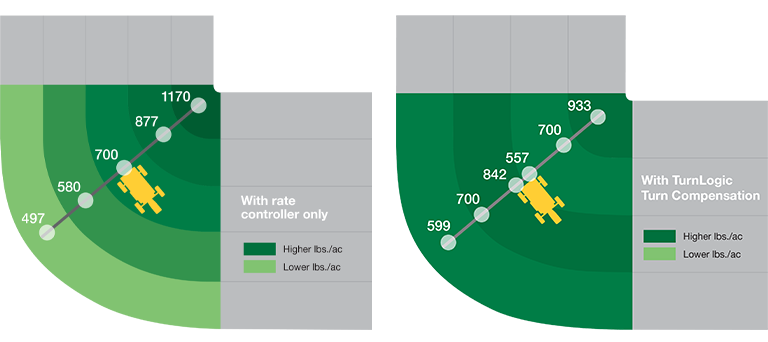 Automatically adjusts distribution rates to ensure even coverage during cornering, helping maximize yields while improving soil and plant health.
Drop Hoses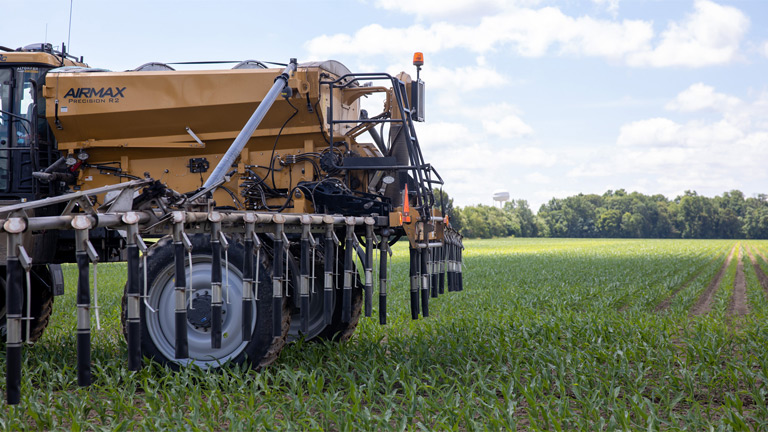 Drop hoses can be purchased through AGCO Parts to place late season nitrogen or cover crops between the rows and below the crop canopy, increasing effectiveness of the application and preventing fertilizer or seed from becoming trapped in the whorl of the plant.
Recon SpreadSense®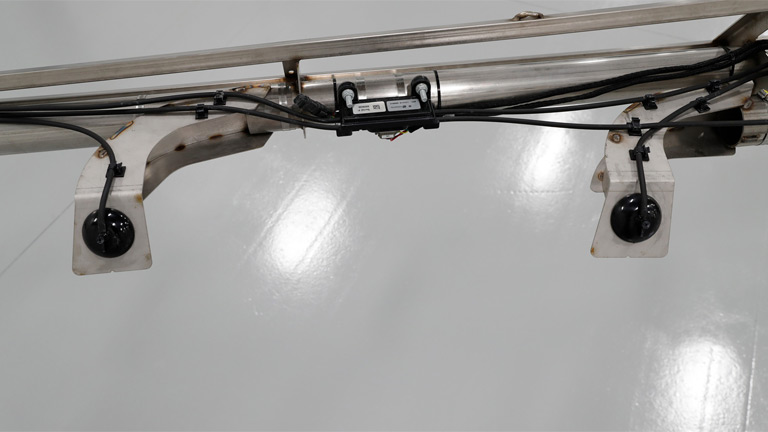 Acoustic sensor provides real-time flow detection through a pneumatic spreader, displaying blockage information in the cab.
Four MultApplier Ready Models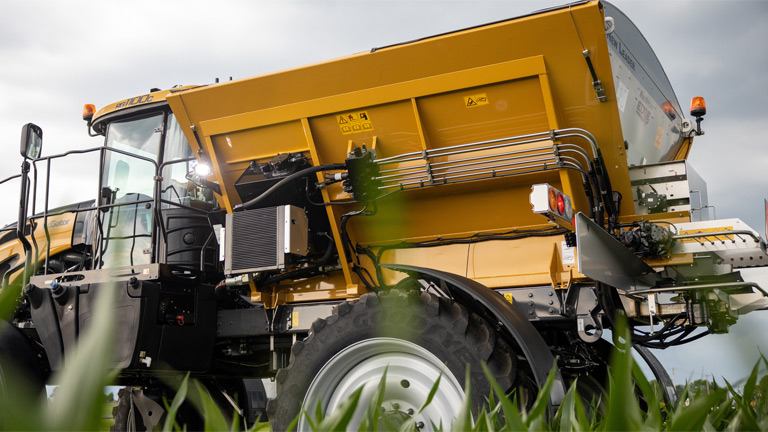 Featuring wide, tapered sides for quick filling and a spread width of up to 120 ft. (36 m.). In just a couple hours, the LiquidLogic ® system can be easily changed out for a spinner, providing year-round usage and improved ROI.
L4500 Edge
This family of spreaders includes many new features to keep this box running accurately for many years, including:
New Leader ISO interface for consistent product control regardless of terminal
Stainless steel durability with 304 stainless steel sills, cross tubes, mounts, feed gates, spinner jacks, and take-ups extend box life.
Independent spinner speed control for precise and repeatable patterns and the ability to slow one spinner down using the Boundary spread feature to keep product in the field.
Feed gate optimizer helps determine achievable rates based on gate height
Automatic belt tension eliminates the guesswork out of setting tension and increases conveyor life.
Centrally-located front/rear grease banks mean easier access and servicing.
Auto-chain oiler system reminds operators of service needs at the end of the day to extend the life of the conveyor.

40-Gallon/Minute Hydraulic Flow: Provides the most powerful spinner system available on any high-clearance machine, allowing the RoGator to function at higher rates and higher speeds.

NL5000 G5 Dry Nutrient Applicator: 16-section swath width control saves costs and places product where it's needed via pinpoint fan-frame positioning, cutting 10–15% of overlap compared to spinner systems without section control.

The G5 applicator provides an excellent return on investment in point rows or tougher conditions (terraces, small fields, rolling ground).
Remote spreading feature increases accuracy for independent left- or right-side spreading by eliminating application to areas where it's not needed, such as those already covered and headlands.
Last-pass spreading reduces material overlap and allows proper material placement on the last pass across the field.
Control has never been so comfortable
Every inch of the RoGator® cab has been designed to maximize your riding experience—and your efficiency.
Ergonomic armrest for more comfort and control, and easier access to sprayer controls.
Flat-folding booms for unmatched visibility on the road.
Six-post cab design provides a clear view to the boom tip, regardless of length.
Triple filtration system includes a prefilter and a charcoal cab filter to keep your environment virtually dust-, chemical- and odor-free.
Recirculation filter keeps cab air clean, and a pressurizing fan maintains positive interior air pressure so unfilte air can't get in.
Power meets performance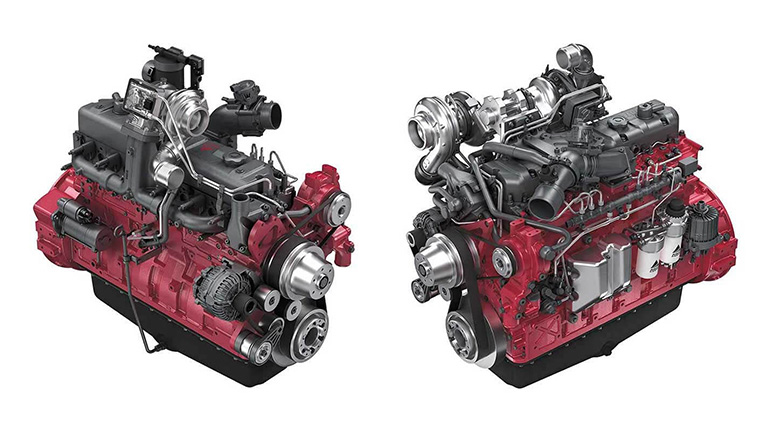 The horsepower, torque and fuel economy to handle any terrain with ease—all while meeting emission compliance regulations.
RG1100C/1300C: AGCO's selective catalytic reduction (SCR) emissions technology in combination with cooled exhaust gas recirculation (cEGR) achieves Tier IV Final (T4F) emission regulation on the AGCO Power 84 AWF engines.
RG900C: Uses the 74 AWF AGCO PowerTM engine and will only utilize the SCR system to meet emissions standards, ensuring increased power density and total fluid economy with an efficient after-treatment of exhaust gases.
Choose the ProTechi package with AgControl that offers LiquidLogic or SpreadLogic standard. ProTechi is easy to use with rate and section control, integrating seamlessly between software, pump, plumbing system or dry conveyor and fan speed, including all chassis functions
Better traction, better results
Ride confidently with SmartDriveTM technology, featuring continuous and independent control of each wheel for maximum traction. It automatically sends more power to the gripping wheel and ensures it gets the torque it needs, all while managing the slipping wheels—without any user input.
Tractor Management System (TMS): Automatically increases engine RPM when more power is needed and reduces RPM when it's not to reduce fuel consumption and noise in the cab.
AccuCruiseTM and Shuttle Speed Control: Enables multiple speed settings at the touch of a button, allowing you to focus on more critical applications.
Advanced Anti-Locking Brake System (ABS): Prevents skids and lock-ups for more controlled stopping in emergency situations.
Turn Compensated Wheel Speed: Provides independent control of each wheel, driving the outside wheels faster to assist in tight turns and reducing soil disruption and crop damage.
Optional Hill Climb Package: Increases power to the ground for efficient handling of steep and rugged terrain on the RG1300C.
Parallel C-Channel Flex Frame:

Pioneered by RoGator in 1993, this state-of-the-art frame keeps all four wheels on the ground—even when one wheel is lifted as high as 40 in.—maintaining solid contact with the ground and keeping the machine moving regardless of conditions, all with a smooth ride
Fewer tracks, more benefits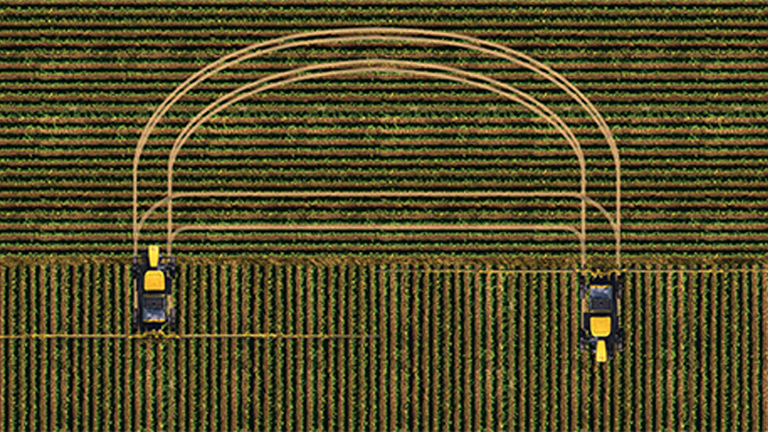 Leaving only two tracks behind, the optional GatorTrakTM 4-wheel steering system gives you everything you need to make any maneuver you want.
Capabilities: Drive in a standard position with 2WS or minimize turn radius with either the 4WS or 4WS Auto. Use Crab steering to avoid field obstacles while maintaining precise even coverage.
Reduce Compaction: Initial tire paths compact soil by 80%, making it essential to reuse them whenever possible. GatorTrak 4-wheel steer maintains rear wheels in front wheel paths, reducing compaction in end rows and headlands.
Minimizes Crop Damage: A tight 16 ft. turning radius means far fewer rows are crossed and compaction is reduced, significantly reducing crop damage and enhancing yields.
Save Time and Improve ROI: For those without headlands, a standard 2-wheel steer machine may require a three-point turn after each pass. If each turn takes an average of 18 seconds, and an average field is 80 acres, with GatorTrak 4-wheel steering you could cover an additional 100 acres per day or 4,500 acres per year.
Save Time and Improve ROI: For those without headlands, a standard 2-wheel steer machine may require a three-point turn after each pass. If each turn takes an average of 18 seconds, and an average field is 80 acres, with GatorTrak 4-wheel steering you could cover an additional 100 acres per day or 4,500 acres per year
Your operation's competitive advantage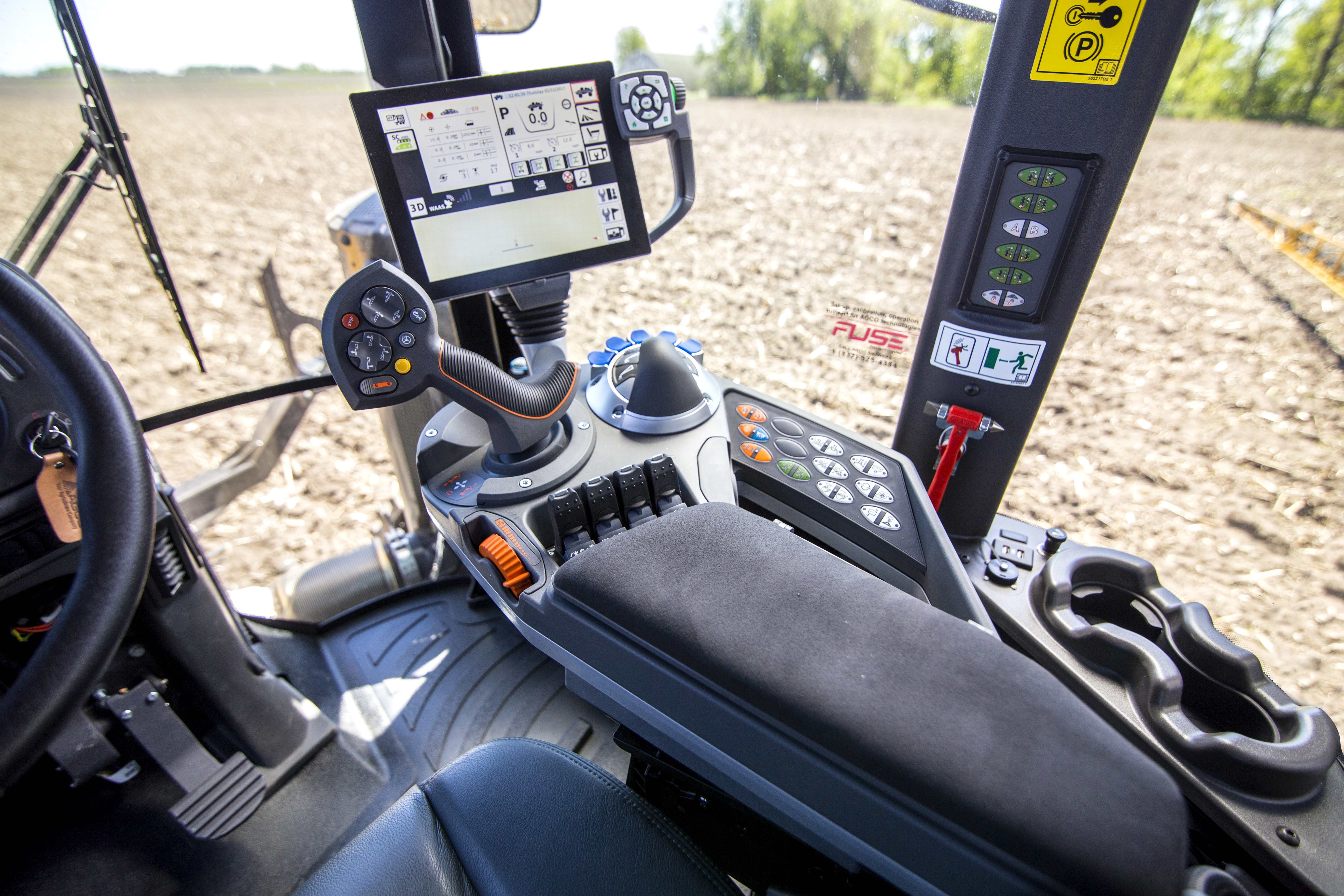 Find the latest technology inside every RoGator®. The intuitive, fully integrated AccuTerminal® gives you full machine control—from the chassis and steering to data management and system functionality—all while decluttering your space with a single screen.
AgControl ® : While ensuring highly accurate rate control and quickly achieving rate, manage up to five products via straight rate or Rx maps and create coverage maps, as-applied maps and task reports for fast and easy document reporting.
E-Stop Nozzle Control: Regulate 36 sections with instant on-off control via small ball valves at each nozzle.
RoGator Guide System: Integrated into the AccuTerminal for easy one-terminal control, and providing a comprehensive guidance system with waylines such as:

AB or A+ heading
Contour
Pivot
Contour segments
Adaptive curve

TaskDoc® Wireless Data Transfer: Manage your application data as it records as-applied data, weather data and field data including boundaries, waylines, and obstacles.

Weather Station Data: View the latest weather information and record data as a snapshot in time or throughout the field and use it for documentation of the application.
Standard NovAtel 7 Receiver

A rugged, self-contained GNSS receiver and antenna with GPS and SBAS support. Base GPS option is SBAS but can be upgraded for higher accuracy levels.
Optional Trimble AG-482 Solution

A high-performance, dual-frequency GPS and GLONASS smart antenna receiver for very high levels of accuracy and performance. Base correction source is SBAS but can be upgraded for higher accuracy levels. (Show Trible chart)
Take your technology to the next level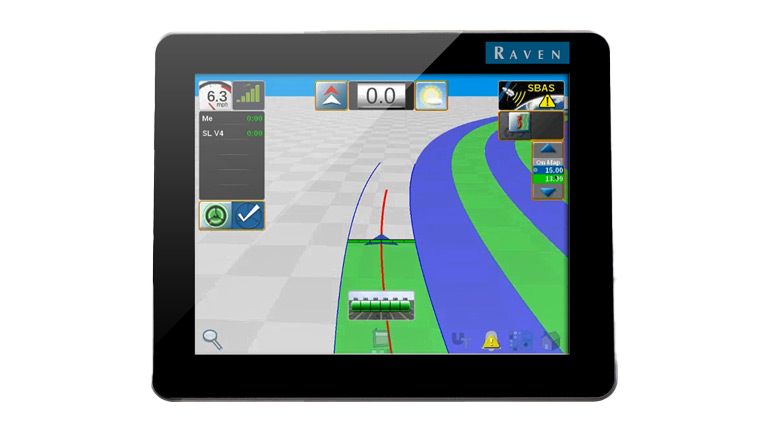 If you're looking for the ultimate in cab and machine technology, look no further than the ProTech+ package.
Viper ® 4+: Offering the ultimate combination of operating power and program capabilities:
10-product variable rate application (VRA)
Real-time data mapping
Record keeping
Intuitive touchscreen control
High quality graphics
Raven AccuBoom™
Previous coverage application zones
Raven Product Control Node: CAN-based product controller, providing 16 section control from the factory regardless of boom width. Upgrading through parts to the rate control module (RCM) provides 36-section control for a cost effective way to add sections for even better control in areas with ample point rows.
Hawkeye Nozzle Control System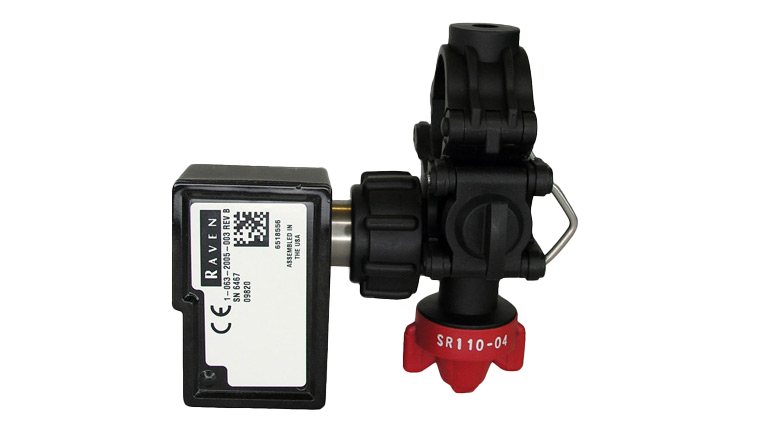 Pressure-based system for precise application available through parts. Each nozzle is controlled by an individual pulsing valve to give a consistent spray pattern as speed and conditions change.
Extended speed range from nozzle tips maintain consistent droplet size and spray pattern for maximized field speeds.
Nozzle-by-nozzle turn compensation adjusts duty cycle to minimize over- and under-applications
Multiple pressure settings allow for application pre-planning with lower pressure for sensitive areas and normal pressures for field interiors.
The base package provides 16-section control regardless of boom width. The optional HD unlock increases OptiPulse accuracy with individual nozzle cont
RS1 Guidance Technology

Fully scalable steering solution that combines Slingshot, GPS and auto steer into one intuitive, easy-to-use unit with incredible accuracy at both high and low speeds
VSN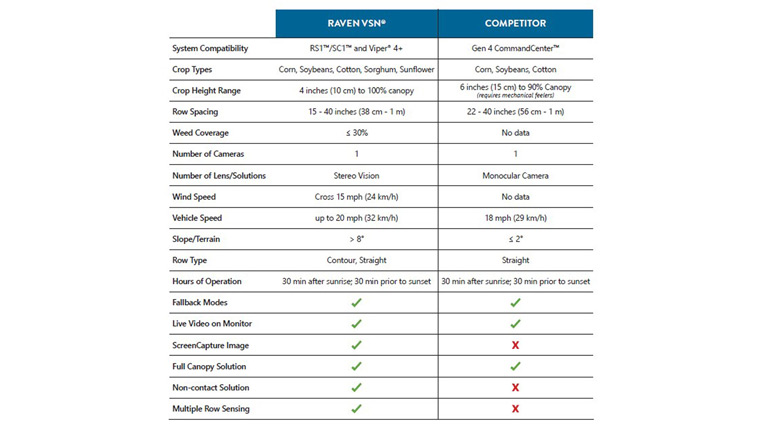 Leverages a non-contact stereo vision camera to navigate crop rows, allowing you to focus on all other aspects of effective application control. The system helps to minimize crop damage, cover more acres in less time and provide easier machine operations. (VSN Comparison Chart)
Requires in-field calibration, only for different crop widths.
Three control modes for accurate steering include:
GPS/GNSS Mode—uses traditional guidance lines.
VSN Mode—Will only use the VSN camera.
VSN+ Mode—Will fall back to GPS last pass if it cannot detect the crop row due to weed pressure or drown out.
VSN Full Canopy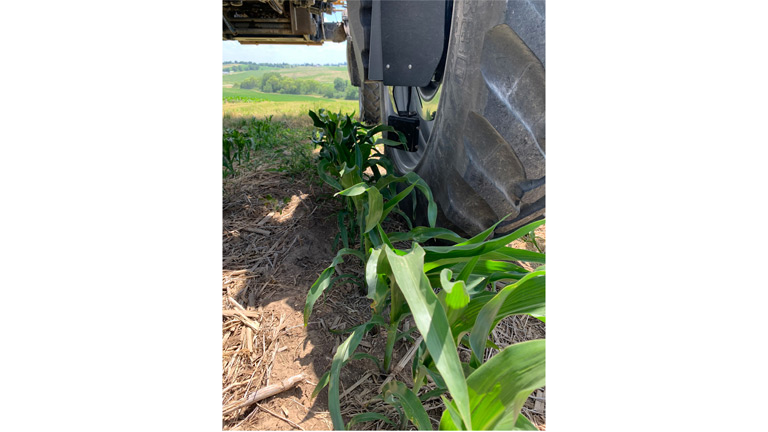 When crops are too tall to effectively see the row, the Raven VSN Full Canopy solution compliments the VSN system with a non-contact radar sensor that detects stalked crops, such as corn, to keep the machine in between rows. Available through AGCO Parts.
Mounted to the bottom of each front wheel leg and can detect rows when crops are too tall for the standard Fendt Vision system to identify the crop row.
Detects multiple rows to keep the machine on track, even with row skips. Permits application speeds of up to 20 mph with a minimum row spacing of 30 in.
Raven AutoTurn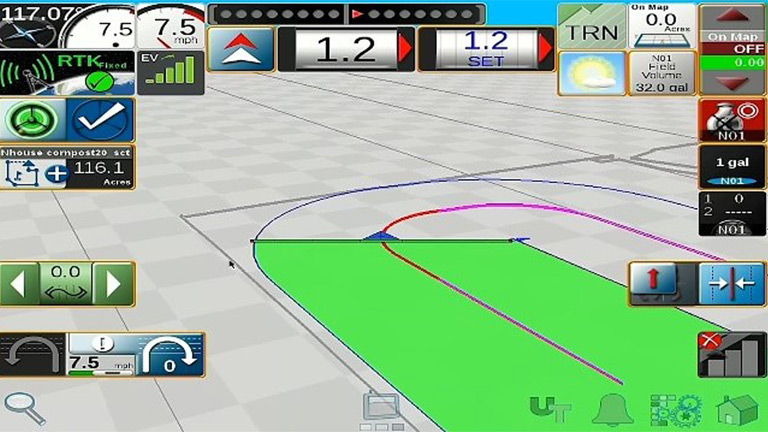 Included with the purchase of VSN, automatically performs headland turns without the operator's input, allowing them to prepare for the next pass
Slingshot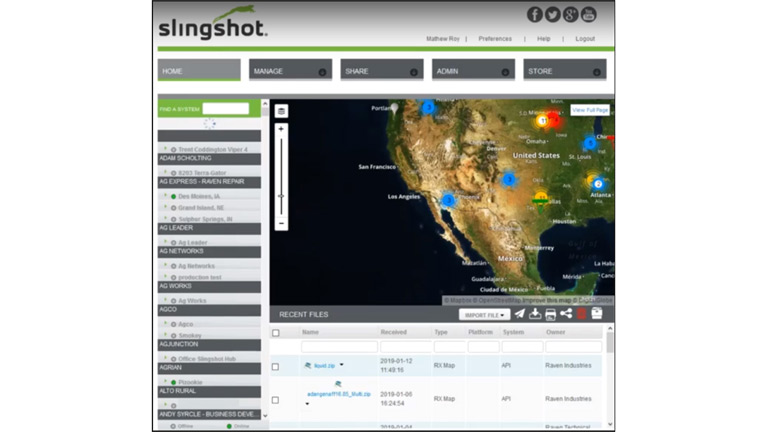 Suite of connected hardware, software and logistical services that optimize planning, executing and recording field applications. This system delivers high levels of connectivity to RTK correction signals, online services, sophisticated data management capabilities and live in-field support and service.
Job Generator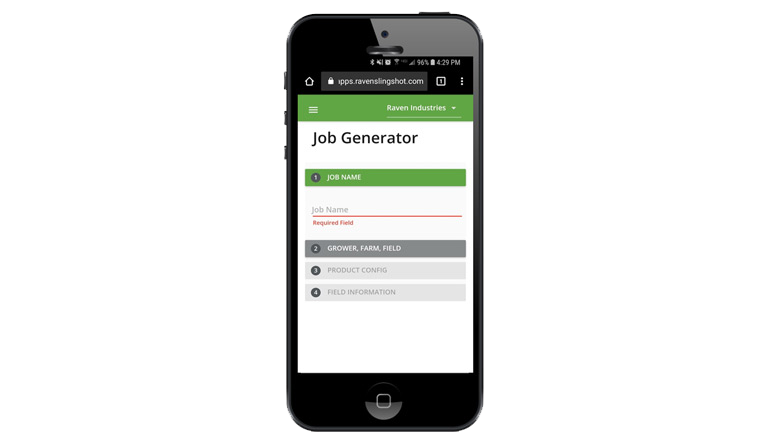 Fast and simple way to set up nearly all parameters of an operation ahead of time and send it out to the machine.
job Sync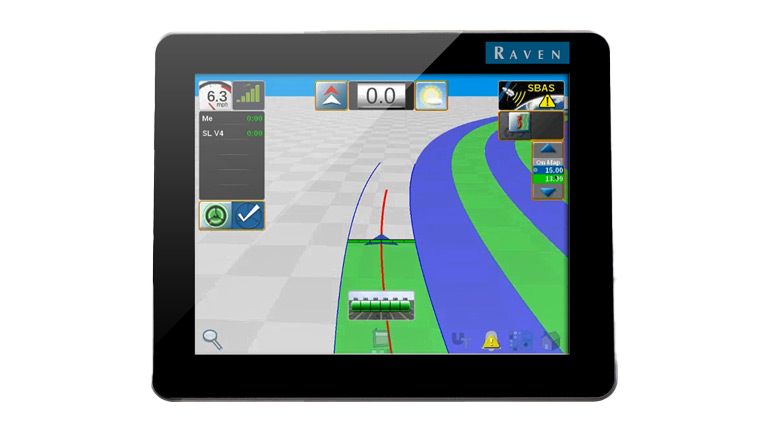 Harnesses Slingshot to allow multiple machines to collaborate on a job simultaneously or days apart—a powerful tool that practically eliminates the potential for overlap or misapplication between multiple machines in the same field.
AgSync Ground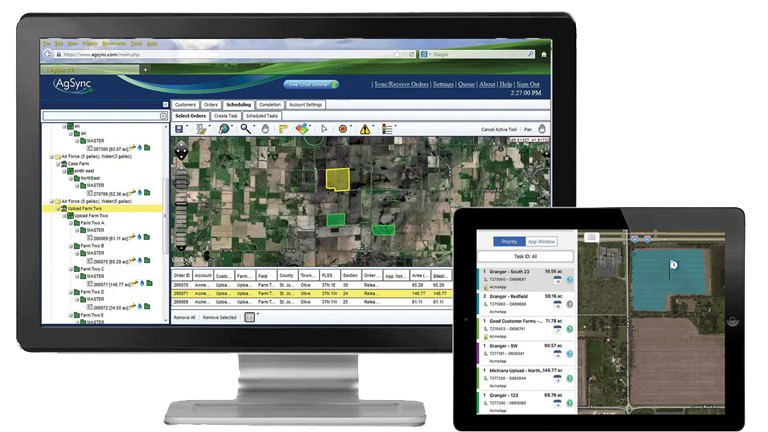 Flexible and scalable tool that leverages Slingshot's data transfer power to streamline otherwise complex tasks, such as work order management, dispatch and asset control, reports and notifications, and filing data management.
Weather Station Data: View the latest weather information and record data as a snapshot in time to use it for documentation of the application.
Data management done right
Agro Link relieves you of the data management burden by collecting, integrating and storing agronomic files—so you can focus on more important tasks.
Save time and effort by consolidating current and historic agronomic data into a single location and file type, easily converting ISO XML files to shapefiles or vice versa.
Simplify data sharing with trusted advisors to help your operations run more efficiently.
Move data between cloud storage, equipment telematics and your FMIS. IMG AgroLink
Securely store and transfer data in one unified file type on your computer or mobile device.
API-connected partners give AgroLink flexibility to collaborate with independent systems; partners include: MyJohnDeere, Case AFS Connect, New Holland PLM Connect, Ag Leader AgFiniti, Raven Slingshot, AgBridge, Climate Fieldview, Farmmobile, Beck's Farm Server, and more
Connected performance perfected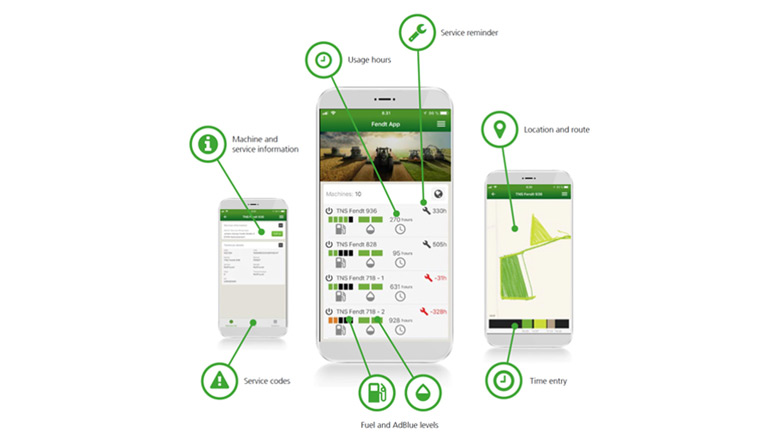 Take the guesswork out of machine optimization with AGCO Connect. Track individual and fleet performance and know where, how and when you can make the most of your machines.
Proactive service scheduling improves uptime and machine servicing through remote-monitoring capabilities.
Improves dealer support efficiency and reduces downtime.
Easily track key operational data, such as machine information, coverage maps and data visualization with the SmartConnect TM app on any compatible smart device.
Premium dashboard includes a histogram that provides a live 60-minute review of critical machine data.
A customizable widget can be set up to suit the operator's needs with up to four screen layouts.
The AGCO connectivity module (ACM) includes a five-year subscription.